Our nationally-recognized team, specializes in helping patients get back home to the life they love.
OrthoColorado Hospital is Colorado's premiere destination for orthopedic care with highly experienced, board certified orthopedic surgeons who specialize in a wide variety of orthopedic specialties
At OrthoColorado, you are more than a patient. You become part of our family.
We understand that living with pain can affect you and your entire family. When you or someone you love needs specialized orthopedic care, turn to our family of nationally-recognized experts at OrthoColorado Hospital. We specialize in helping Colorado families get their lives back.
Marilyn & Carolyn
Identical twins undergo identical knee replacements.
As identical twins, these two sisters do everything together. For years, they both struggled with knee pain. Finally, Marilyn said "No more!" and went to see Dr. Jared Foran, an orthopedic surgeon at OrthoColorado. When Marilyn scheduled a knee replacement, her sister Carolyn decided it was time for her to do something about her pain. By coincidence, they were scheduled for surgery on the same day.
Marti & Mary
Hip replacment surgery: Following in a sister's footsteps.
These Colorado twins don't mind following in each other's footsteps. They both became nurses and they both raised beautiful families. When hip pain caused by osteoarthritis became too much for Mary to bear, she turned to Dr. William Peace at OrthoColorado for hip surgery. Three months later, when Marti experienced the same debilitating pain, she knew exactly where to go for help. Watch their story to learn how OrthoColorado helped these sisters get back on their feet.
Meet Our Orthopedic Experts
Our surgeons are renowned for their talent, knowledge and experience in their orthopedic specialties. And our team is steadfast in our commitment to provide orthopedic patients and their families a truly remarkable experience.
PIVO Needle-Free Blood Draw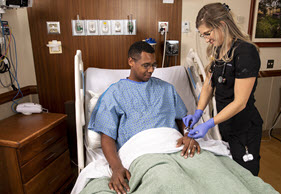 Centura Health, the region's health care leader, is now the first hospital system in Colorado, and among the first in the nation, to offer needle-free blood draws for inpatients using needle-free blood draw technology.